General English Course Example Timetable (subject to change)
A
world language
is a language spoken internationally and that is learned by many people as a second language. A world language is characterized not only by the total number of speakers (native and second language speakers), but also by its geographical distribution, and use in international organizations and diplomatic relations. By these criteria, the major world languages are of Western European origin. The historical reason for this is the period of European exploration and colonialism.
The world's most widely used language is English, which has over 1.38 billion users worldwide. Of this number, 750 million are students of English as a second language. That means you!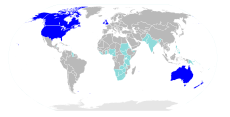 Countries of the world where English is a majority native language are dark blue; countries where it is an official but not majority native language are light blue. In the Canadian province of Quebec, French is the sole official language, but it has a small English-speaking population (Charter of the French Language). Because Quebec is not a separate country, but part of Canada, it is not shown separately and is colored dark blue.
Decide how long you want to study for, how many hours per week and we'll help you find an English course that's right for you.
Why choose a General English Course?
Standard (20 lessons per week) or Intensive (30 lessons per week)

Improve essential listening & speaking, reading & writing skills

Broaden grammatical knowledge for more accurate communication

Interact with learners from around the world using a world language

Focus on improving weaker skills using our supervised self-study sessions

Make noticeable progress with tests and tutorials from qualified teachers

Enjoy our inclusive social activity programme to form new international friendships
General English courses run throughout the year and start every Monday.
FAQs
Do I need to take an entry test before I book?
No, each student's writing, grammar and speaking is tested on arrival to make sure they are in a class that is just right for their level.
About the course
Course structure
Standard
20 General English lessons
or
Intensive
30 General English lessons
+ optional one-to-one lessons with a teacher to work on your particular needs/desires whether that be improving grammar, conversation skills, academic study skills, business communication or preparing for an exam, to name but a few.
Entry level
A1(Elementary) to C2 (Advanced), suitable for all levels
Timetable
Morning or afternoon classes according to the school timetable, Monday-Friday
Standard: 20 lessons a week (mornings only)
Intensive: 30 lessons a week (mornings and afternoon)
Lesson Length
45 minutes
Course duration
1-52 weeks
Certification
At the end of the course, receive an OEC report documenting your language level and a certificate as proof of course completion.
Assessment and progress
Stay focussed with weekly tests/reviews and a monthly tutorial to focus on particular needs.
One-to-one lessons
Optional one-to-one lessons help students focus on an area of interest or improve in a particular part of their English. The content of these lessons is driven by the student with a plan being negotiated with the teacher. Content may range from specialist exam preparation to general conversation lessons and dissertation checking.
FAQs
What will my lessons be like?
The first 90-minute session has a grammatical focus and is (usually) coursebook-based but will include speaking, reading, writing and listening exercises to cement the grammatical knowledge, further reinforced by weekly testing.
 The second 90-minute session is focussed upon improving and extending the core skills of reading, writing, listening and speaking. A range of teaching methods and authentic resources are used in this session from newspapers and magazines to websites and other media through the use of our Interactive Whiteboards and self-study computer suite.
 The third (optional) 90-minute session is more fluency based where students are given the opportunity to speak as much as possible, through games, quizzes, questionnaires and interviews as well as debating contemporary topics and issues. However, how 'free' the conversation is will be dependent upon level with lower levels needing a more structured approach to conversational interaction.
Do I have to buy materials for the course?
Materials with cost £40.00
Can I pre-book one-to-one lessons?
Yes, one-to-one lessons can be pre-booked along with a request for their lesson content.
How many one-to-ones can I take?
The maximum number amounts to 8 lessons per day (6 hours)
KEY FACTS
Class duration: 1 – 52 weeks
Class size: maximum 14
Lesson duration: 45 minutes
Lessons per week: 30
Learning materials:
1-10 weeks £35
11-20 weeks £70
21-30 weeks £100
31+ weeks £120
Start: Every Monday
Minimum age: 16
REGISTRATION & COURSE DEPOSITS
Registration Fee: £90.00
Tuition & Accommodation Deposit: £490.00
Tuition Only Deposit: £290.00
Payment by cash, debit or credit card
Payment by bank transfer: See Bank Details